Canada is a big country, second biggest in the world. Only Russia is bigger. Only about 32 million people live here. That leaves a lot of space for everybody. To me, it remains a mystery that 75% of the Canadian people still want to go and live in 1 million inhabitant cities. Oh well, understanding is not given to everybody…
City wilderness, not much sky
What I like, on the other hand is sky and nature. That is what you can find most in Canada. Of course you should get out of the city for that. No trouble for me, Winnipeg is not so big that I would need half a day to get out of the city limits.
And even within the city limits there are plenty of places where the sky is nicely visible and traffic is nearly inexistent.
1 comments
When Alf A. Hole started his Wild Goose Sanctuary in Rennie, he didn't know that 70 years later the sanctuary would still exist. Now the place is quiet and pleasant for a Saturday in the wild.
Guest at the table
In the beginning we went for a bite, with some unexpected but welcome visitors. This little chipmunk was happy with a peanut. I always keep peanuts in my camera bag for this kind of opportunity. You peanut, me picture, everybody happy.
This is valid for all countries in the world. In French they say "Nul n'est censé ignorer la loi". Fine, but sometimes it is difficult to understand, for lawyers, bookkeepers and even judges. A better way of stating this title would be "Nobody is supposed to be ignorant about the law", meaning you must know about it. Ignorance is not an excuse.
View from the rotunda, straight up
Ok, that's heavy stuff, I can understand that this statement could fire up many a discussion. No problem there, that's good for the long and cold winter evenings :-)
The subject on this blog is more about appearances.
Yeah, I know what you are thinking: Henk has gone on a fancy tour… Possible, but there is no other word than anachronism for something that does not belong in the time period where things are supposed to happen. Imagine Roman gladiators with wristwatches.
Fort Garry, MB, Canada, 2010
Or imagine yourself, with your nice and shiny DSLR in a fort in the 19th century. You'd feel slightly out of place. Ok, perhaps not you, but me, yes…
The Spirit Sands in Manitoba have been a place were the aboriginals would go only if really necessary. And then only for a short time. On a normal summer day the temperature can rise here to around +40C, making the sand a nice roasting +55C.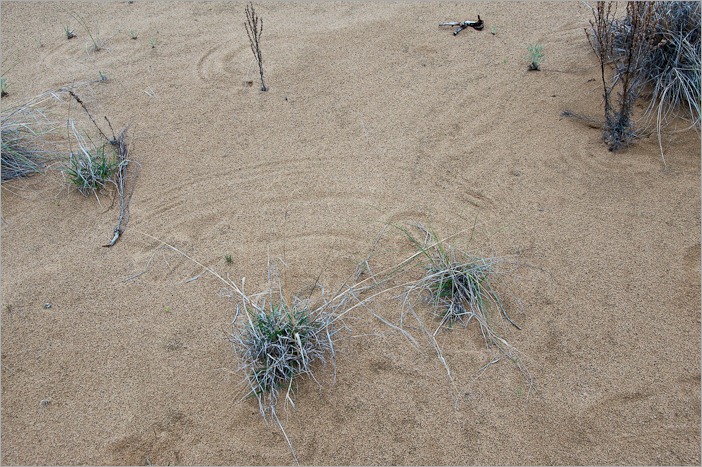 Sand in all its beauty
This is what you expect from a desert. And this is what you get in the Sprucewoods Provincial Park's Spirit Sands. This is not a picture on the beach, I can assure you. Not that we don't have any beaches, but this was definitely not one.