It has taken some time to start, but now it's in full swing. No, I'm not talking about tax season, that one comes always too soon. I'm talking about the wild bird migration back into Canada. Many birds have been waiting out the long cold winter in a warmer area. But deep in their hearts, they prefer Canada. So whenever the temperatures go back to something normal, they fly home. Because after all, Canada is always home.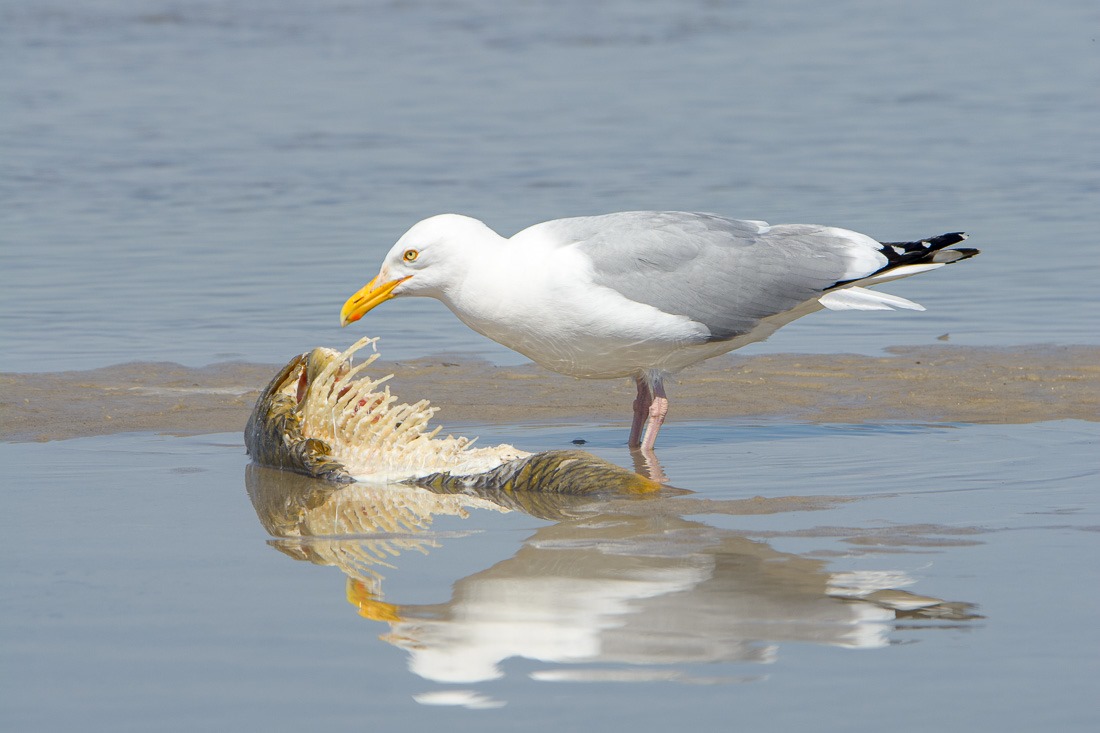 So when they arrive here, either to linger around or just overnighting to go further up north, photographers everywhere unite (so to speak) to shoot them all. None of the birds is safe.
Ok, let's get rid of this dramatic stuff…
Many photographers are waiting for the Spring and Fall migrations to encounter birds they usually don't see in their neighbourhood parks. The same goes for me, except that even in the "wilderness" of Europe, I never got to see the birds that I can find here. The best I could find were crows, sparrows and the seagulls announcing a change in the weather for the worse.
Ring-Billed Gulls
Here, the gulls (Ring Billed Gulls in this case) just scream at me for not bringing them any food. The fun part of them screaming at me was that this usually means that there is food/fish to be had. And that means that the Bald Eagles will also show up.
Juvenile Bald Eagle
This young Bald Eagle soared over in the distance, just to check out if there was any fish. As it turned out, the Gulls were only yelling for nothing and the Eagles didn't come closer. This one seems to have lost a feather in his or her tail, sign that they are moulting into a new set of feathers. One step closer to adulthood. Bald Eagles do not reach maturity until they are 4 or 5 years old. They change their feathers every year until then and look different every year.
Lesser Yellow-Legs
But not all birds are raucous and bad mannered like the gulls. Some just go about their business and don't bother anyone. They don't ask you for food and don't yell at you either. This Lesser Yellow-Legs just went on its business in the shallow water and royally ignored me. To be honest, that is the way I like the birds, they can see that I am no threat and there is no reason to fly up and away on sight. Also, no reason to honk so loud that all other birds take off in horror either.
Sandpiper
Sandpipers were also all over the place. This one feeding in the mud of a small canal leading up to the beach. Small crustaceans and other human-inedible stuff were on the menu for these guys. Unfortunately, the canal was off-limits for me so this shot was from a little further away.
Willet
Back on the beach, some of the birds were now giving me a flight show. This Willet (not the same as the Lesser Yloow-Legs above) just kept circling close to me as if to beg me for a nice shot. It seems I still have to practice a bit more with my "in-flight" shots as most of them didn't come out the way I wanted. This one was a nice contrast to those "other" shots Smile.
Northern Shovellers
This pair of Northern Shovellers was also feeding. In this shot, it looks like a divorce, with the male purposefully walking away from the female. Unlike the Willets, these birds were actively avoiding me. Since they look a lot like ducks and probably taste like ducks too, they are being shot at with a lot worse than a camera with a big lens. Getting out of the way of humans is a way of life for them.
Yellow-Rumped Warbler
Away from the beaches (we only went to visit Patricia Beach and Grand Beach), the bushes are full of warblers of all kinds. The bushes are starting to blossom soon and the warblers like this Yellow-Rumped Warbler above are just waiting for their protein to arrive. Insects that feed on the nectar and other goodies in the blossoms are themselves a good meal for these small birds.
Palm Warbler
Some of the warblers simply take whatever they can get their beaks on and feed on the ground and in the bushes or trees, like this Palm Warbler. In previous years I had never found such a large number of them as this year. Something must be different this year, probably the still cold weather. In previous years we were having temperatures that were way above the current ones of +12C.
Osprey
And then there are the birds that don't care too much about the temperature or even humans. Unless they are in the vicinity of the nest on which the female is incubating their eggs. This Osprey was calmly waiting on a nearby telephone pole until we came a little too close to the nest for his liking. Instead of attacking us with (feigned) dives, he simply returned to the nest to be with his mate. Ospreys nest high above the ground, a little like storks and fear nobody. When I look at those talons, I can understand why. I think I'd stay out of their way if they were to attack me with those.
So this was a weekend in the countryside, enjoying all the birds that have come back to stay or to move through. It was a slow start to this Spring Migration, but it's now in full swing.
Photographers Unite!
Until next time…