Wow! The last few weeks or months have been exhausting. Between personal issues and the work, one can only take so much before crumbling. Now I haven't crumbled just yet, but sometimes I can see the signs of it. Forgetting appointments, forgetting papers, forgetting to renew my driver's license… All of those are signs that the battery level is now on low.
That is definitely NOT where I need to be at the moment. The work pressure is not going to relinquish anytime soon, personal problems are not going away but can be subdued a little. So I needed to find a different way to recharge my batteries.
That's where photography comes in. While usually you can take pictures anywhere and anytime, to recharge your batteries and yourself, you need to find some easier places and the time to visit them. Not too far away from my place is Birds Hill Park.
Small path
Birds Hill Park in Summer is as quiet as going to Wal-Mart on a Saturday afternoon. Not the place to find some quietness. In winter, on the other hand, the place is all but empty. That was what I needed. A nice place where I could photograph all kinds of birds and wildlife, all while being alone with my camera.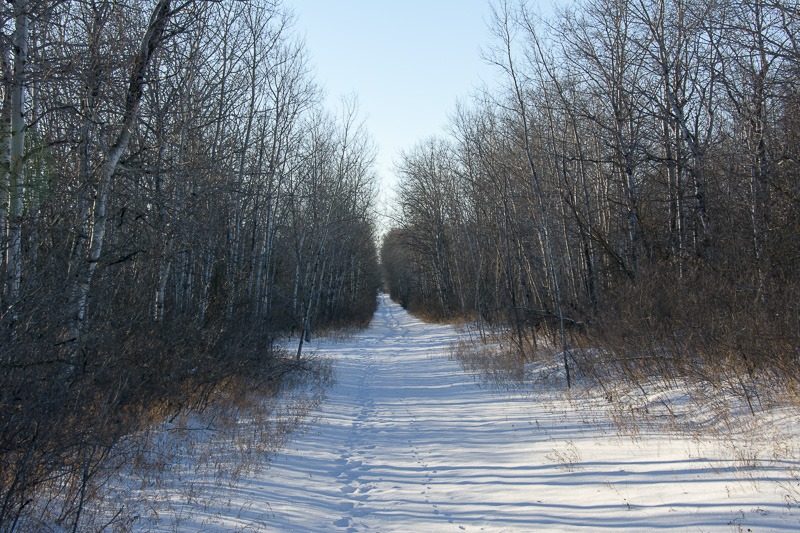 The long way to where…?
The scenery in Birds Hill Park is wonderful. The wildlife part… not so much. In wintertime most of the birds have moved south to warmer climes. What's left of it stays nicely hidden. The deer still remember the noisy humans of the summer, the kids throwing balls at them for play and so on.
Undisturbed
So, the only thing left is the shine. The shine of the sun and the trees. Trees don't have a habit of moving around too much. Deep snow was sometimes an issue, finding myself to my thighs in the snow with an expensive camera in one hand is not the most enviable position. But I managed to move out of there and take some pictures anyway. And saved the camera from going under as well.
Back light
The pictures of this post are not so much noteworthy for their artistic endeavour, they are mostly nice memories of a very quiet walk. Exactly what I needed to recharge my inner batteries a bit. It certainly needs repeating a few times, though. A single walk is not enough to get back to 100%.
Light play
The play of the morning light in the bushes was great. I may have taken this kind of picture a hundred times before, it still makes me feel calm when I take them. Backlit leaves and berries are always a favourite.
Reaching out
Lonely trees against a blue sky… Not much of a subject, but always a calm feeling comes to me when I remember that the same tree was so full of leaves last summer. More over, it will be full of leaves again next summer. That is what gives me back some of the charge that I need.
Not available
The path that will go somewhere, but is currently unavailable to humans is another favourite. It is all about the promise that things will be better and easier in the not so distant future.
Lonely icicle
A dripping icicle in the sunlight. Even if the snow and ice are far from gone for the season, things will warm up again and a different beauty will be there to warm us. Promise of nice walks in the parks… Oh, wait, this is already a nice walk in the park and the winter is still here… Another one of those thoughts to keep in mind when you feel a little depleted. A simple walk outside in nice weather, even by –22C as it was here. It will recharge the batteries just enough to go one for a while longer.
The view of nothingness
Soon I will be going on a complete weekend, away from the Internet, away from the ringing phones and the computers. Just my loved ones and my camera. Now THAT recharges my batteries even more. Photography is a great way to help recharging those batteries, it forces you to absorb your surroundings instead of just moving through them at full speed.
Until next time…