Well all photographs are supposed to be colourful memories, right? But lately, colour is making itself scarce. Winter is still here, we could say that Old Man Winter is just shaking out the last snowflakes from his pockets before leaving, but nobody really knows. I start to think that we may have a very short spring.
So instead of complaining about the current weather (no use in that, is there, eh?), I thought I'd rake up some older, but colourful memories of a time when I was not yet in Canada. Those who like to travel: come along for the trip! En route!
Let's start in a place in Ukraine called Dubinka. It's a small stretched-out village in the north of Ukraine. It's a wonderful place to be on holiday or just to spend some time in a peaceful, quiet environment. Don't expect modern amenities, there are very little.
Water supply
Even if you have an electric pump, the water comes from a well. If you're lucky, the well exists, otherwise you will need to get your water from the well in the street, some 150m away. Now, if you start complaining about that, you will love the next step. Your food comes from…
Kitchen garden
The kitchen garden. As a city guy, you might think that everything comes in packages and bags, but here you have to get it out of the ground yourself. After having it put in there yourself as well. All work, but still all natural and healthy. So, what if you want some meat as well?
Meat on the run
You'll have to hunt for that yourself too. Firearms are not allowed in Ukraine, so you'll have to do this the old-fashioned way. Hehe
. And after this hearty and healthy meal you will have cooked, you'll want some fruits, berries or something sweet, right?
Viburnum
These look interesting, everybody is using them. So you try them. They are called "Kalina" or Viburnum in English. They are sour and smell like feet that have not seen a bathroom for a few weeks. They have the ability to bring down your blood pressure in a few heartbeats. They're used to dissipate hangovers in less than a dozen minutes. All you have to overcome is the smell and the taste.
Hydropark sport complex
Let's go to Kiev, the capital of Ukraine. When I was there, I went a few times to the local gym. Nothing fancy, but highly effective. The fun here is that everything is dangerous, no safety mechanisms or digital dials to determine your calorie loss. Just work out on the weights and you'll get there. Some top athletes of Ukraine have been training here. It looks perhaps that I am joking, but no… I'm serious. Just be careful where you put your limbs if you want them back.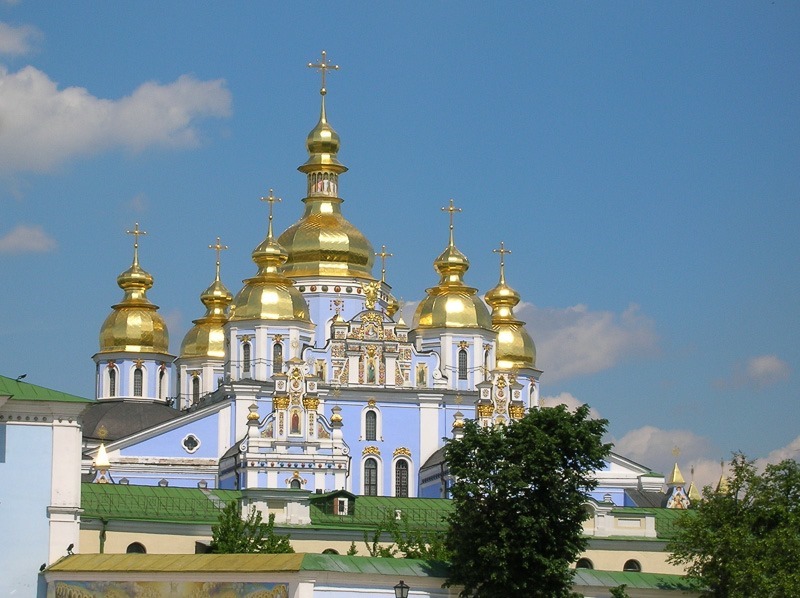 Michaelovska, or St. Michael's Golden-Domed Cathedral
Then, after some serious workout, you'll be in need of some mental workout. The churches in Kiev are mostly very modern, even if they look different. The issue here is that they have been reconstructed after the fall of the Soviet Union. Most churches were destroyed and are now rebuilt or under reconstruction. The main bell of this church was found buried a few hundred meters away. It was discovered by chance. A parking lot needed some renewals and the bell made its reappearance after having been buried there for about 60 years.
Sophia Kievska
Opposite Michaelovska is another church called Sophia Kievska, again a story of lost and found. Again reconstructed according to old plans. This picture was taken with a small point and shoot, posed on a post box for nightly stability.
Marketplace in Warsaw, Poland
Let's continue the trip a little more to the west and look at Warsaw, Poland. I had to go there a few times for paperwork reasons. Of course the camera always came with me. Warsaw is now a modern city and looks like any other city. Except for a few places where the past is kept alive. Many of these houses are 300 to 400 years old.
Horse and carriage
For the tourists they still have the old transport. Horse and carriage in streets otherwise empty of motorised traffic. I didn't take the carriage, I just took a picture
.
Lake Balaton
A little to the south, memories of warmth and colour all over in Hungary. Lake Balaton, once occupied by the Romans is now a great place to get some sunburn or a sun tan. The Romans knew the place well, they were the first to build the now famous baths, with water from hot and cold springs. If you ever go to Hungary, try to get yourself in one of those old bath houses, you will not regret it.
Tulip field
Let's end in a wonderful colourful place called The Netherlands. Tulips are one of the main attractions in The Netherlands near the end of April. However, this year I am not so sure that those tulips will be there on time. Pity for those who will have booked their trip especially for the occasion. The best I can do for now is show a picture of a place called Noord-Oost Polder, a land created by man, situated in general 3-4 meters below sea level.
That's it for now, a little trip on memory lane with lots of colour and warmth. I hope you can feel the warmth coming off your monitor by now. Heaven knows we need it nowadays.
Until next time…