People who have followed me over the years know I hardly do any street photography. Street photography makes me feel uncomfortable. You never know what you can expect from your, perhaps unwilling, subjects.
There is also the threat of legal action looming. As soon as the subject
sees it can have a say over the photographer or get some benefit, there is room for a lawsuit. Or so it seems, listening and reading stories about this from our neighbours from the south.
Or perhaps I'm just too shy for this. I think that's a reasonable assessment too. So, the other day, I tried to overcome my fears and do some street photography. Taking pictures of complete strangers, without asking their permission or even telling them I was shooting.
Trying to calm down
There was only one small problem: there was no street in view. So I decided to call this Duck Pond Photography, since all these pictures were taken on an afternoon at the Assiniboine Park Duck Pond.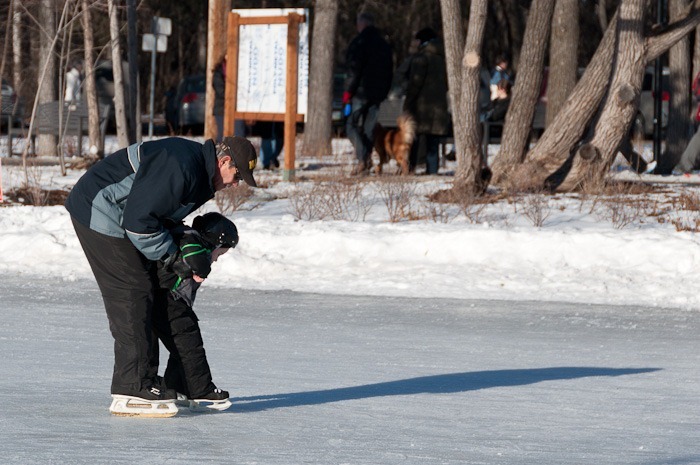 Nearly on his own skates
So here is my Sunday Afternoon on the ice. I was mostly sitting on a small bench, happily clicking away.
There's no age for starters
It is true that when you sit down long enough in a place filled with people, you start seeing the strangest or interesting of things, people and situations.
Done shopping
Also, things that move the heart, crying children (if they don't overdo it and try to wake up everyone within a ten mile radius, that is)
Putting her best foot forward
and children that are trying to do their best. It's great to see how small kids are trying to get on the ice and make the best of that hard, slippery surface.
Learning with a chair
It's true that the protection of the children today is far more advanced then when I was a kid, learning to skate. And the old kitchen chair was still in use then. Today there are visibly specific chairs to learn how to skate! It beats putting your designer kitchen chairs on the ice
.
Transportation
Empty transportation seems to be a hot idea on the Duck Pond. I guess most of the passengers had other things in mind, once arrived on the ice.
Unexpected devices
There was also some very soft transportation, although in my days I think I used these devices for swimming. In winter, these rings were safely stored away with the camping stuff, that much I do remember.
Rear wheel propulsion
Other people seem to prefer to show their children the benefits of rear propulsion over front-wheel drive. Not sure if it was successful, but judging by the screams of joy, it must have been.
Belly skating
And then you have the parents who are trying to show that you can even move forward on your belly. Laughs guaranteed!
But sometimes…
Learning to fall
Sometimes it's time to show that even parents can meet that hard surface in a way that was not foreseen. Even if it were only to show daughter that there is nothing wrong with finding yourself upside down on the ice.
DSLR on ice
A little bit of Duck Pond Photography. Fun on a Sunday afternoon, when nobody is caring about your big camera. Some people also take their DSLR on the ice. Myself, I'm not a big fan of taking risks with my only camera.
One thing is sure: it's way safer to take pictures at the Duck Pond than taking pictures in the hotter parts of Downtown Winnipeg, or any other big city for that matter. A fun afternoon.
Kind of.
It's still not within my comfort zone, no pictures have really recognisable people in them. Perhaps one day it will become easier.